INTERVIEW: Home DIYer gets PASMA trained
19/4/21 -
When Tony Seddon decided to use a mobile access tower for his latest DIY project, safe equipment and proper training were on his must-have list. After a 15-year career in height safety, he understands all too well what can go wrong when corners are cut. We caught up with Tony after his PASMA course.
Are you an experienced tower user?
No! I'm a complete beginner. If I cast my mind back, I think years and years ago I might've put up a dodgy old domestic tower once or twice, the type with planks for platforms. But that's when I was a teenager, before I knew anything. It's scary to think of that now. But I realised a tower would be a handy tool to have at home. I've got some work to do on the house, around the gables. There's a problem with our eaves and I need to strip some roof tiles off. I also keep steam engines, believe it or not, and they're in a large portal steel building. You can't reach the light units without going up there in some shape or form. Plus, my office is next door. If there's ever work to do there, it sometimes requires work at height. So, I bought myself a tower. If we can excuse youthful blunders, that'll be my first time using one.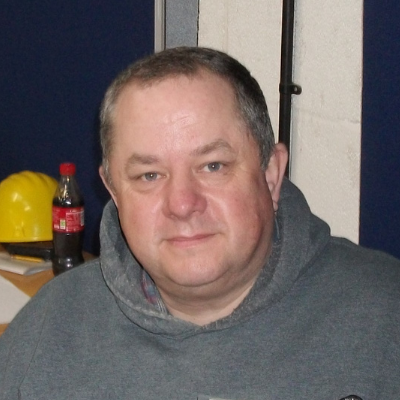 Tony Seddon
How did you decide which tower to buy?
All I knew was it had to meet the design standard for mobile access towers, which I learned was BS EN 1004. It's me and the people around me who'll be going up this thing and I won't be responsible for an accident that happened because I'd scrimped on an unsafe product. I'm not a tower expert, so I don't necessarily know what I'm looking for. But I knew that as long as it's made to standard, I'm in the right place. My next step was to look at the list of PASMA manufacturing members. If it's a choice between any Tom, Dick or Harry that claims they've got a BS EN 1004 tower, or a company who's been verified and checked out by PASMA, I know which one I'm buying from. I found there was a whole range of towers available from PASMA manufacturers and I picked the one that best suited my needs, which was made by UTS.
Why did you want to get trained?
Oh, I've worked in height safety for too long now! I manage several height safety organisations: FASET, SAEMA and WAHSA. That's the type of work at height you don't tend to do at home – we cover safety netting, edge protection, stair towers, access platform decking, soft landing systems, suspended access equipment and personal fall protection equipment. But from that experience I know that any type of work at height involves risk, whether you're up a ladder in your garden or at work in the platform of a suspended access cradle. Gravity doesn't care if you're at home or at work, it works equally well in both places. I've heard too many horror stories of what can go wrong. The fatalities, the life-changing injuries. It's very simple: falls from height kill. The only way to do it safely and understand the ins and outs of the equipment you're using is to talk to a professional. I firmly believe that people should always be trained. It's something I say all the time in my working life, so when it comes to my personal life I need to practise what I preach!
Why did you pick a PASMA course specifically?
PASMA is the recognised body for this equipment. It's the right place to go; I didn't consider any other type of training. Plus, I've seen first-hand how dedicated PASMA is to keeping tower users safe. FASET, SAEMA, WAHSA and PASMA are all members of the Access Industry Forum, so we've known each other through that for many years. We're also both big supporters of
No Falls Foundation
, a charity dedicated to preventing falls from height and supporting those affected by a fall. So I know the people at PASMA well and knew I'd be in the best hands. I found a nearby training centre and booked a Towers for Users course with Shropshire County Trainers, one of PASMA's approved providers. They're just down the road from me.
Was it a bit daunting walking in there as a beginner?
No, it was absolutely fine. The instructor, Phil, started the day by saying 'Some of you might have experience with towers but I'm going to treat you all as if you've done nothing before'. That put me at ease and it was a good approach for him to take.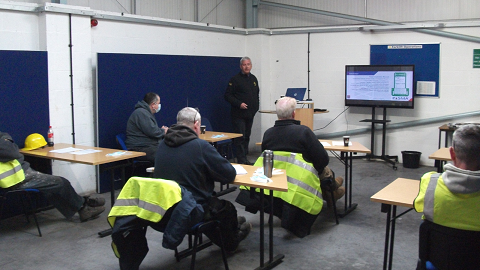 Instructor Phil leads the theory part of the course
There were only 6 of us on the course – the others had some experience, although I don't think they'd all been trained before. What's great is we all took something away from the course. I was most worried about making a prat of myself at the practical, where I knew I'd have to assemble a tower! But by that point in the day, I was ready for it. Phil offered all of us extra practical time too, if we wanted it, so it was reassuring to know that offer was there – although I didn't need it.
What was the most useful part of the course for you?
The afternoon practical session, definitely. As much as I know I have a safe tower and it comes with an instruction manual, I don't think you can beat having an experienced instructor talk you through it that first time. There were so many things pointed out that I never would've thought about. Lots of little tricks, like how to set the stabilisers at the right angle and unclipping the guardrail at one end before sitting in the trap. Practical stuff like how to methodically go about levelling the tower.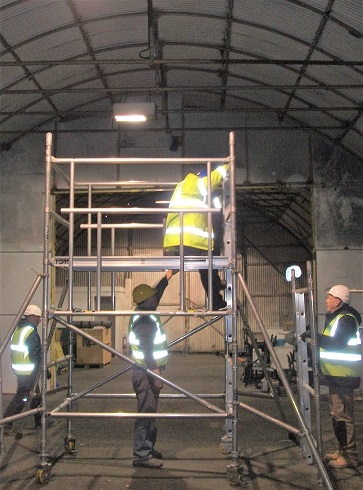 Tony tackles the practical part of his course
I've also now got the
PASMA app
on my phone, which is a brilliant thing. It has all the manufacturers' instruction manuals on it, which will be handy if mine ever goes missing. The theory session in the morning was interesting too and I learned a lot from it - I even managed to score full marks on the test - but what I valued most was having someone actually show me how to assemble a tower safely. I know the key principles I learned will keep me right every time I build a tower from now on. I'll always have Phil's voice in my head reminding me 'never stand on an unprotected platform'! It's given me the confidence to go off and use my tower, knowing that I'm assembling it correctly and using it safely. That's hugely reassuring.
And did you pass?
I did, thankfully. I put myself under pressure by telling you about it beforehand! I'm just waiting on my PASMA card to arrive now.
How's the DIY coming on?
I've got to wait for the better weather, haven't I! I'm running out of excuses but at least I have the right kit to do it now and most importantly, I'll be doing it safely.
If you're using a mobile access tower at home, please be safe. PASMA Towers for Users is a one-day training course that teaches you how to safely assemble and use any standard mobile access tower. No experience necessary! To follow Tony's example and book a course, contact any of our approved training providers.