PASMA sponsors HSE's safetytech event
26/10/23 - PASMA's head of digitalisation, Ross Dryden, and head of strategic engagement, Jason Carlton, respectively on the left and right of frame in front of the TowerSure stand at the event. Photo credit: Hannah Williams.
PASMA proudly sponsored the Health and Safety Executive's groundbreaking
Safetytech Regulatory Sandbox
event. The first of its kind, it was hosted by the HSE's
Discovering Safety Team
in partnership with
Safetytech Accelerator
and other leaders in the construction industry. Taking place on 17 October at Mary Ward House in London, it marked the conclusion of an eight month long project that provided a platform to showcase innovations in technologies designed to enhance safety and well-being in modern workplaces. As part of our sponsorship package, PASMA presented an exhibition stand to demonstrate the capabilities of
TowerSure
. The event's stage also featured the
TowerSure explainer video
and our advert was unmissable in its programme. These were seen by over 200 delegates, including representatives from government, academia, the press, the HSE and the construction and tech industries.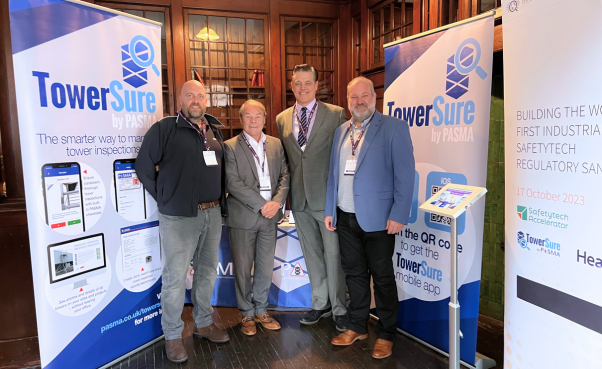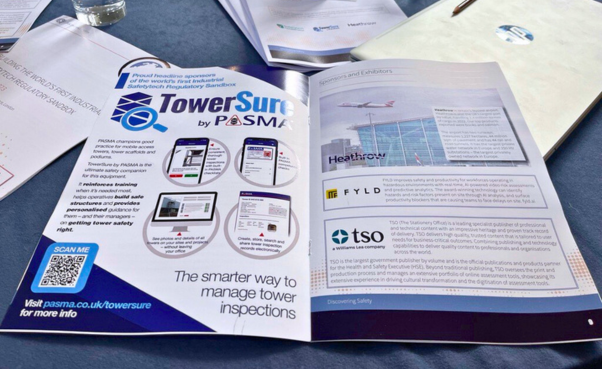 &nbsp
Launch of TowerSure explainer video
We are excited to announce the launch of a brand-new video that provides a comprehensive overview of TowerSure's features. Developed in preparation for PASMA's headline sponsorship of HSE's Safetytech Sandbox, the video is now accessible to everyone interested in gaining a clear visual understanding of how digital inspections work at both ends – for operatives building and using towers and for managers remotely verifying and monitoring the work. TowerSure helps operatives build towers correctly and helps their managers make sure everything is looking good on site, even when they can't make it there in person. Watch the video below and don't forget to share it!