Two men die when 'DIY tower' topples
26/8/21 - Two men have died after falling from what appears to be a non-compliant scaffold tower in Peterhead, Scotland, on 18 August. They were reportedly carrying out maintenance work on a church - as volunteers - when the structure toppled. George Forbes died at the scene and Alistair Buchan died in hospital five days later. They were both 77 years old.
This has hit us all hard here at PASMA. It's a deeply sad and shocking thing to happen. It's even more distressing because, while we don't know the exact cause or circumstances of this accident, photos taken at the scene show a type of tower that is not safe to use, ever, in any situation.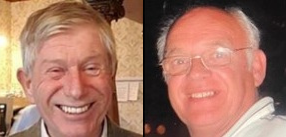 George Forbes (left) and Alistair Buchan (right)
'DIY towers'
They're sometimes sold as 'DIY towers', a term that misleads unsuspecting members of the public into believing it's a recommended product for a quick bit of painting or maintenance. The truth is, these are flimsy, dangerous towers that are not recommended by anyone, for any purpose - at least, not by anyone who cares about the safety of the people using them. Irresponsible manufacturers, importers and suppliers choose to cut costs by offering a tower that doesn't comply with any recognised standard, so they can leave out essential components and basic safety features that prevent towers toppling or people falling. Calling it a 'DIY tower' is a ruse to convince buyers they're getting a 'no frills' bargain. But stabilisers, guardrails, secure platforms and a safe means of access are essential safeguards, not optional extras. Stripping them out means the tower is cheap to buy, but could cost you your life.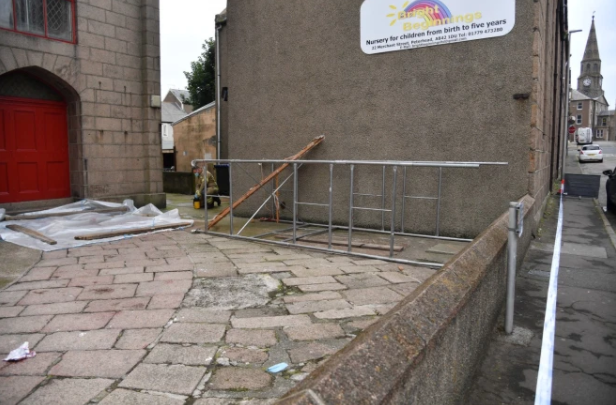 A photo from the scene
And it's not just home DIYers who get caught out. These towers are finding their way into workplaces too, putting even more people at enormous risk.
Choosing safe towers
We're angry that non-compliant 'DIY towers' are still being sold and hired in the UK and we will be redoubling our efforts to campaign against them. In the meantime, please don't get caught out. Keep yourself and others safe by following this general guidance for the safe use of mobile access towers:
>
Only ever use compliant towers i.e. those that are certified to EN 1004. This will be marked on the tower.
Learn how to recognise an EN 1004 tower >>
>
If your organisation has volunteers who work at height, make sure they're using safe equipment. If you own a tower, check that it has 'EN 1004' marked on it. If you ever hire or borrow towers, put procedures in place to stop non-compliant equipment creeping in.
>
The most reliable way to ensure you get a safe tower every time is to buy or hire it from PASMA
manufacturers
or
hirer/dealer
members, and to ensure the people assembling it are
PASMA trained
. While we wait for the Health & Safety Executive to establish the full facts of what happened in Peterhead, our warning is too important to delay. DIY towers are an accident waiting to happen. Don't buy them. Don't use them. They are just not worth the risk. Because when they topple, it doesn't matter if it's during paid or unpaid work - the consequences are equally as devastating. By all accounts George and Alistair were popular, much-loved members of their community. Our thoughts are with their families, friends and everyone else affected by what happened.
No Falls Foundation is a charity dedicated to supporting people who've been affected by the consequences of a fall. If you find yourself in this situation, please download a support pack.
PHOTO CREDIT: The Sun