VIDEO: build-up to tower fall at Paddington Station
28/8/20 - Just after Christmas 2019, workers used a tower scaffold to reach a banner repeater signal head that needed testing on platform 11 at Paddington Station. In theory, the fiberglass tower was a safe way to carry out this work. However, as always, that's only true when all appropriate safety measures are taken. Unfortunately for one man on the team that day, this was not the case. A series of simple mistakes led to him falling from the tower, first onto the platform and then the track, fracturing vertebrae, ribs and a collar bone.
WHAT WENT WRONG
Unusually, due to the availability of CCTV at the station, we're able to watch footage of the build-up to the accident. It has been released by Network Rail and Colas Rail as a way of sharing the lessons learned. They're keen to highlight the number of unsafe behaviours that happened during the job, any one of which could've caused an accident, and the many missed opportunities to challenge them. It's a stark reminder of just how many ways work at height can go wrong. Some of the factors that directly contributed to the accident were: • There was inadequate planning and supervision for the work at height • No one on the team was competent to use the tower • The tower was poorly constructed • The tower wasn't inspected • The worker climbed the outside of the tower
WATCH THE VIDEO
When you
watch the video
, you'll spot even more unsafe behaviours that PASMA-trained workers know never to do. For example, workers stand on unprotected platforms and the tower is moved with people and materials still on it. The investigators identified a total of 17 unsafe behaviours, which were witnessed by 66 people.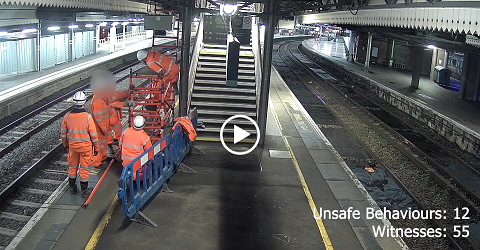 Could anything like this ever happen in your own workplace? Are you sure?
LEARNING FROM IT
Sadly, this man was just one of thousands who fell from height at work last year, doing all sorts of jobs in all sorts of industries. Falls from height are not isolated incidents; there are patterns of underlying causes. We can learn from them and it's important that we do, because then we can stop the same thing happening again. As well as the video, Network Rail released two
safety
bulletins
to their managers, safety professionals and contractors in the aftermath of the fall - both freely available online. In them, they shared what went wrong and the measures needed to prevent future falls. This accident should not have happened and could easily have been prevented. But it did happen. When it's too late to stop it, the next best thing is to learn from it. In this case, the open and transparent approach taken to the investigation means we can all benefit. As Suzanne Kay, Head of Safety and Sustainable Development at Network Rail told us, "This video clearly shows the further work we all have to do to improve risk perception and acceptance in all industries."
THE ROOT CAUSES OF FALLS
But this is only one single incident. If we can learn from it, imagine what we could achieve if we understood the root causes and circumstances of
all
falls and near misses. That's what's needed to really revolutionise height safety and it's why the
All-Party Parliamentary Group (APPG) on Working at Height
is calling for enhanced RIDDOR reporting and an independent body to record near misses and accidents that don't qualify for RIDDOR.
ACTION POINTS
PASMA will continue to support the APPG's calls as we, alongside our members, work towards a world where everyone who climbs up a tower comes back down safely and goes home to their family. To help us get there, here are four simple things you can do to improve tower safety in your workplace today: • Check that everyone working with towers has had the
training
they need • Book your managers onto a
PASMA Towers for Managers
training course • Use our
Toolbox Talks
to regularly remind workers of basic safety messages • Join our Safety Practitioner Zone (via
IIRSM
) to access more resources Our best wishes go to the worker who fell at Paddington; we trust he has made a full recovery. We encourage anyone who needs support after a fall to contact
No Falls Foundation
.