Each year, we hold a conference in the UK to share the latest insights and guidance on scaffold tower safety and demonstrate the variety of ways that they can be used. We invite our members as well as anyone else with an interest in towers – including those who select access equipment for their organisation or have responsibility for the health and safety of people who work at height. The event attracts delegates representing principal contractors and councils, and from industries including facilities management, events, rail, roofing, and glass and glazing.
This page contains videos and other resources from our 2019 conference, which took place 25th – 26th September at the Forest of Arden Marriott Hotel in Coventry.
Whether you want to relive the action or see what you missed, you've come to the right place. Here are videos of all presentations that happened on the main stage at PASMA Conference 2019.
Towers 101

John Darby (PASMA) gives you a comprehensive introduction to towers. He covers standards and testing, different types of towers and their applications, and PASMA's role in supporting best practice. It's everything you ever wanted to know about mobile access towers but were afraid to ask.
From podiums to complex structures:
you can do more with towers than you think
John Darby (PASMA) and Pete Harley (STS Access) stake you on a journey from podiums and folding room to one-person and EN 1004 towers, onto more complex builds involving cantilevers, bridges and stairs and finally, advanced configurations built to specification.
On the right tracks: TfL's collaborative approach to improving safety when working at height
Don Aers (PASMA) explains how PASMA, Transport for London and their principal contractors are working in collaboration to improve operatives' behaviours and approach to work at height – and how it all started with a concerning photo of a tower assembled overnight at a major project site.
You think working at height is difficult? Try managing it!

Barri Millar (Association for Project Safety), Paul Ormsby (GES) and Rhaynukaa Soni (HS2) discuss the challenges of managing work at height, drawing on experience from their own industries – including lighthouses, large-scale events and transport. Chaired by Peter Bennett OBE (PASMA).
From swimming pools to sports halls: case studies of complex tower builds
PASMA's Hire & Assembly members have built towers in all sorts of challenging locations. In this video, Pete Harley (STS Access) and Stephen Kane (Ridgeway) talk you through some of their most interesting jobs and the process they went through to design a safe way to access seemingly inaccessible areas.
Towers through the decades
Since mobile access towers were invented, there have been seismic shifts in health and safety awareness, regulation and culture. Paul Pritchard (retired PASMA Auditor) reminds us how things used to be, and how far we've come, in a light-hearted walk back through 60-odd years of evolving safety standards.
Caution: women at work
Pam Agent (Astley Hire), Gail Hounslea (Ladderstore.com), Katie Kelleher (KatieCranes.com) and Gillian Rutter (Hire Access and Skyward Training) discuss what we can all do to get more women working in construction. Chaired by Peter Bennett OBE (PASMA).
Working at height – is anybody taking this seriously?
PASMA sponsors an All-Party Parliamentary Group on Working at Height, which is pushing for improved regulation to prevent future accidents. The Chair of the APPG, Alison Thewliss MP, updates you on the progress made by the group so far, and what's coming next.
The day after a training course

Brian Parker (AFI Group) and Darren Verschuren (Serious Labs Inc) explore the factors that can make someone take a training course but then decide not to put what they've learned into practice. They also suggest how employers can get their workforce prioritising safety over all else – even when no one's looking.
Falls from height: are we going to do something or just stand around gawping?
Peter Bennett OBE introduces you to the No Falls Foundation – a new charity dedicated to preventing falls from height and helping people affected by the consequences of a fall. He explains the progress the charity has made so far and shares some ideas for how your business can support its important work.

Closing remarks: "The best way to predict the future is to create it"
Peter Bennett OBE (PASMA) closes the conference by summarising the themes and messages covered during the day. Learn what PASMA is doing to ensure the sustainable future of the scaffold tower industry and more importantly, how the future can be a safer one for everyone involved.
The Tower Showcase
Take a behind-the-scenes look at scaffold towers being assembled for PASMA Conference 2019. Watch time-lapse videos of towers with bridges and a tower on stairs being assembled for the Tower Showcase, as well as several complex structures being built to specification.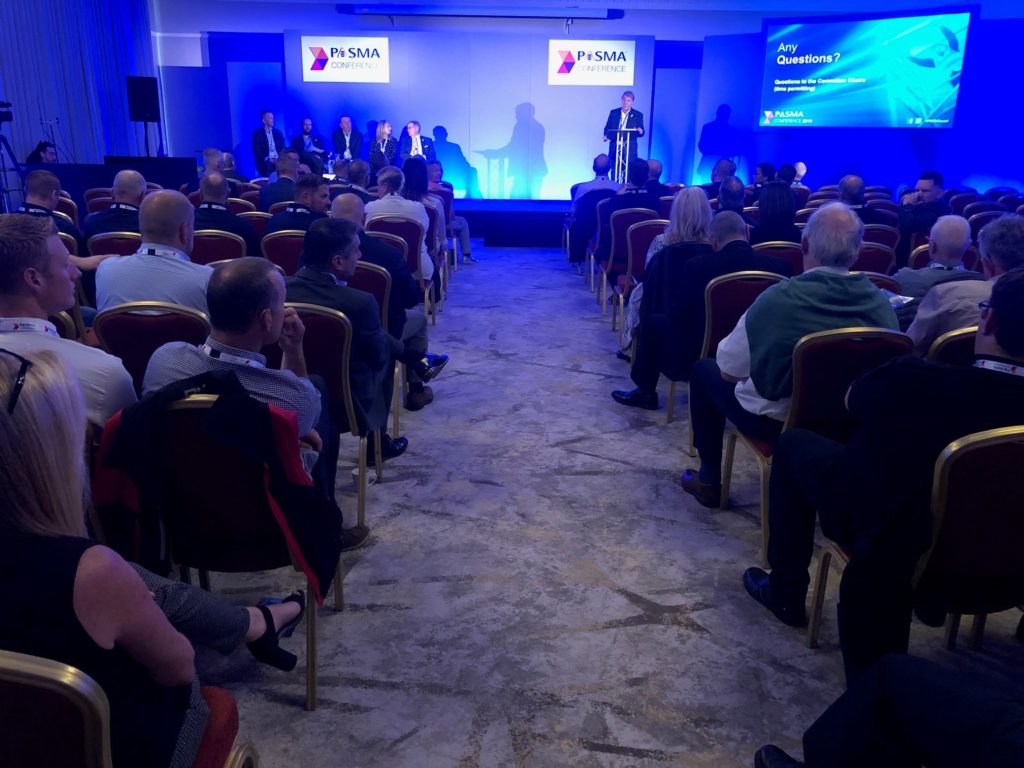 Annual members' meeting
PASMA members can watch a recording of our Annual Members' Meeting when they log into our website.

At this meeting, our committee chairs answered questions from the audience and Gillian Rutter (Skyward Training and Hire Access) handed over the role of Chair to Roger Verallo (Euro Towers).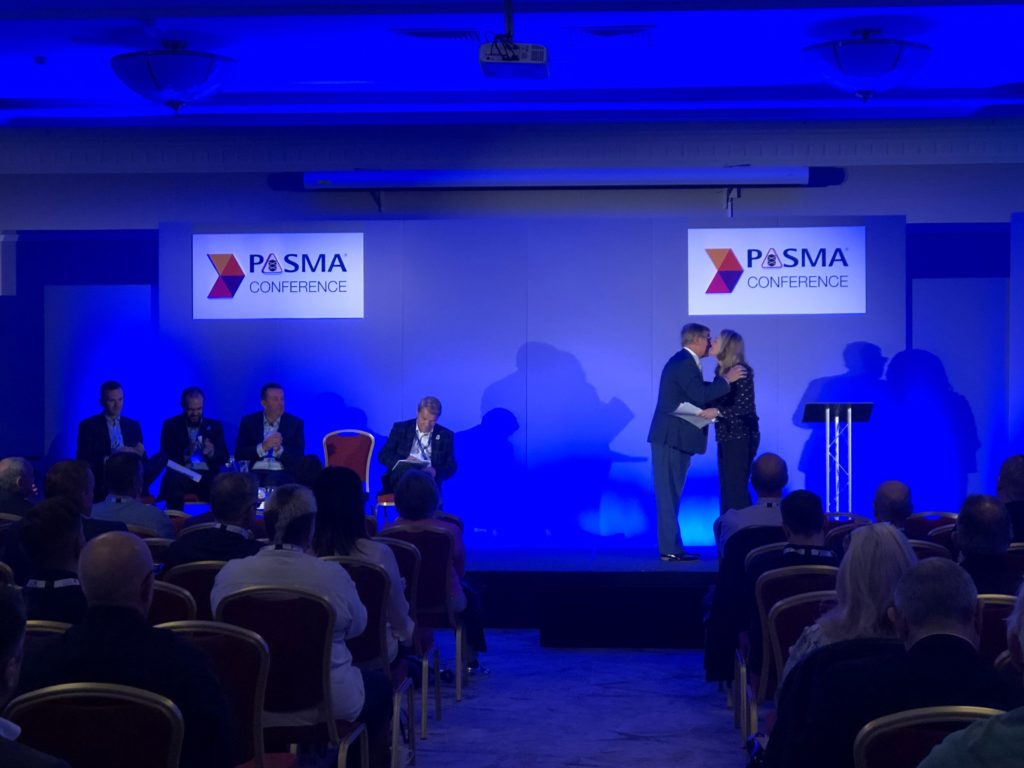 If you want to hear about our next event, sign up for our e-newsletters. Subscribers will receive our most important news, updates and resources relating to scaffold towers and working at height, plus invitations to events. Sign up to be among the first to hear when tickets for PASMA Conference 2020 are available.
Here's a set of PDF resources that you can download, keep and share. These handy reference guides remind you what training courses, standards and documentation are associated with each type of tower. If you were at PASMA Conference 2019, you'll recognise them because they were on display around the Tower Showcase. Complete your details below and click 'Download your Tower Guides' to access the hi-res PDFs.
Thank you to all our wonderful speakers who shared their experiences, insights and knowledge with delegates at PASMA Conference 2019.
98%
of delegates said they learned something new
at PASMA Conference 2019.
91%
of delegates said they connected with new people
at PASMA Conference 2019.
At PASMA Conference, delegates were introduced to No Falls Foundation, an important new charity dedicated to preventing falls from height and helping people affected by the consequences of a fall.
Please sign up for their newsletter, visit their website, attend their annual ball and consider how your organisation could show its support.
Contact info@nofallsfoundation.org for more info.
Delegates at PASMA Conference 2019 saw towers used in smart, innovative ways in an outdoor showcase – from the simplest podiums and mobile access towers, onto more complex structures involving cantilevers, bridges and stairs and finally, non-standard configurations that are built to specification by Professional Riggers. Learn more about the showcase and the PASMA members who took part. Plus, check out our time-lapse footage of the tower assembly as it happened!
Thank you to Cranes & Access magazine for joining us at the event and for sharing your thoughts and photos afterwards. There was also plenty of chat on social media using the #PASMAconf hashtag, along with some lovely comments on our post-event survey.